Food for candomblé parties in the city of Recife no longer have the flavor of the orixás
Cozinha de Candomblé
Keywords:
Food; Candomblé; Disappearance; Terreiro; Recife
Abstract
This article aims to demonstrate that the Candomblé terreiros in the Recife region no longer offer the iconic typical terreiro foods, or orixá food, in the final moments of the terreiros' festivities, the so-called "ajeum das festas", in the meals of the members of the cult and its visitors. For this purpose, investigations were carried out in the 3 most famous and prestigious terreiros in the region and 2 more local terreiros where it was possible to identify that axé foods such as acarajé, amalá, xinxim and many other delicacies have been disappearing from this festive moment of the cult to be replaced by "white food", or food not related to the diet of the orixás. At the end of the feasts of the orixás, where the people present were invited to participate in the communion banquet, the individuals ate the favorite foods of the deity in commemoration. However, for some reasons explained by members of the local Candomblé, such as historical persecutions, the cost of food, illnesses and food prohibitions by followers of the cult and even culinary fashion; they made the final mood of Candomblé festivals in the Recife region no longer seem like a terreiro party, at least in terms of the characteristic food of a Candomblé terreiro. Today you can find everything: confectioned cakes, checkered chicken, açaí in the bowl, except the orixá foods: which made some members of Recife's Candomblé rethink a return from the ajeum of terreiro parties to the custom of orixá food.
References
(1) Duvignaud, Jean. Festas e civilizações, Tempo Brasileiro, Rio de Janeiro, (1983).
(2) Motta, Roberto. Transe, sacrifício, comunhão e poder no Xangô de Pernambuco, Revista de Antropologia, USP. n. 34, p. 131-142, São Paulo, (1991).
(3) Loyola, Maria Andrea. Médicos e curandeiros: conflito social e saúde, Difel, São Paulo, (1984).
(4) Ortiz, Renato. A morte branca do feiticeiro negro, (1ª ed.), Editora Brasiliense, São Paulo, (1991).
(5) Prandi, Reginaldo. O Brasil com axé. Candomblé e Umbanda no mercado religioso, In. Estudos Avançados, 18, 52, São Paulo, (2004).
(6) Contreras, Jesús; Gracia, Mabel. Alimentação, sociedade e Cultura, Editora Fiocruz, (22ª ed.) Rio de Janeiro, (2011).
(7) Fonseca, Eduardo P. de Aquino. Candomblé: a dança da vida: um estudo antropológico sobre afiliação às religiões afro-brasileiras, Editora Massangana, Recife, (1999).
(8) Bastide, Roger. O Candomblé da Bahia, (1ª ed.), Companhia Editora Nacional, São Paulo, (1961).
(9) Campos, Zuleica Dantas Pereira. Memórias etnográficas do Sítio do Pai Adão, Recife, Revista de Teologia e Ciências da Religião. Ano IV, nº 4, (2005).
(10) Kileuy, Odé; Oxaguiã, Vera de. O Candomblé bem explicado: nações Bantu, Iorubá e Fon, (1ª ed.), Pallas, Rio deJaneiro, (2014).
(11) Capone, Stefania. A busca da África no Candomblé: tradição e poder no Brasil, Pallas, Rio de Janeiro, (2004).
(12) https://g1.globo.com/economia/noticia/cronologia-greve-dos-caminhoneiros.ghtml Acesso em: 30 de junho de 2020.
(13) Campos, Zuleica Dantas Pereira. Religiões afrodescendentes no Recife: uma trajetória de modernização e reinvenção de tradições na história, Anais do XXVI Simpósio Nacional de História – ANPUH, São Paulo, (2011).
(14) Pacheco, Aristides de Oliveira. Manual de organização de banquetes, (3ª ed.), Editora Senac, São Paulo, (2004).
(15) Lody, Raul. Santo também come, (2ª ed.), Editora Pallas, Rio de Janeiro, (2002).
(16) Prandi, Reginaldo. Deuses africanos no Brasil contemporâneo: introdução sociológica ao candomblé de hoje, Horizontes Antropológicos, N. 3, p. 10-30, Porto Alegre, (2005).
(17) Guerra, Lúcia Helena Barbosa. Memória e etnicidade no Quilombo Ilé Axé Oyá Meguê. Ciências Sociais Unisinos, 47 (3), 284-291, (2011).
(18) Almeida, Maria das Graças A. A. de. A construção da verdade autoritária, (1ª ed.), Editora Humanitas/USP, São Paulo, (2001).
(19) Queiroz, Martha Rosa Figueira. Religião afro-brasileira no Recife: intelectuais, policiais e repressão, Dissertação de Mestrado em História, Universidade Federal de Pernambuco, Recife, PE, Brasil, (1999).
(20) Motta, Roberto. Comida, família, dança e transe. Revista de Antropologia, V. 25, p. 147-158, São Paulo, (1982).
(21) Querino, Manuel. A Arte Culinária na Bahia, Livraria Progresso Editora, Salvador, (1957).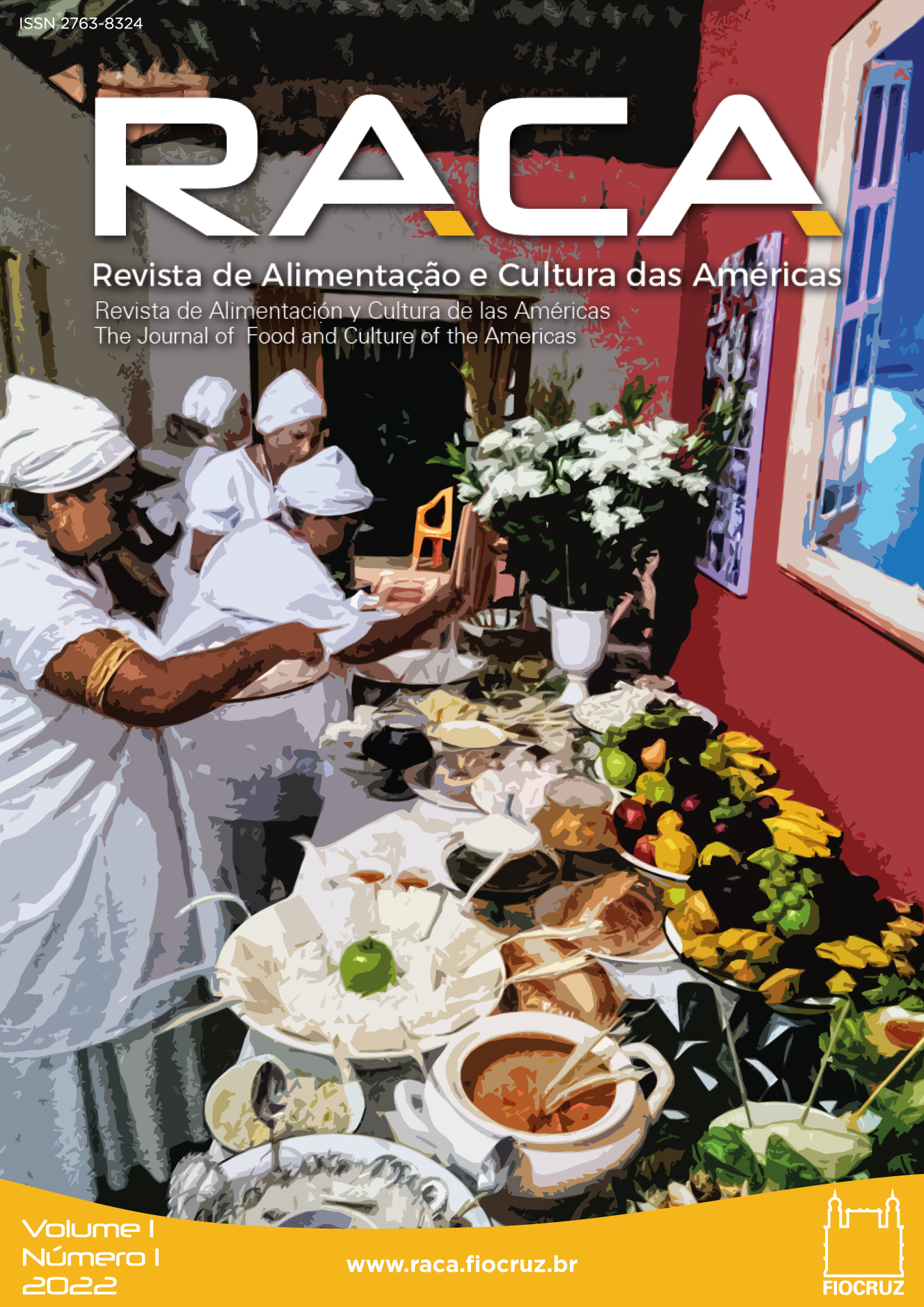 Downloads
How to Cite
Vilela Correia, B. C., Larrea Killinger, C., & Contreras Hernández, J. (2022). Food for candomblé parties in the city of Recife no longer have the flavor of the orixás: Cozinha de Candomblé. The Journal of Food and Culture of the Americas, 3(1), 5–27. Retrieved from https://raca.fiocruz.br/index.php/raca/article/view/115
License
Copyright (c) 2022 The Journal of Food and Culture of the Americas
This work is licensed under a Creative Commons Attribution-NonCommercial 4.0 International License.